Talking to Children About Political Events: Love Over Fear
by John Scardina, WCFS School Psychologist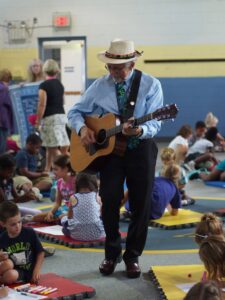 This has been an eventful new year thus far, and many of us have had to sort out for ourselves how we process what we witness in our country.
Our children also will have questions – even if they do not seem to notice present current events. Here are some quick guidelines:
Make sure you are calm and have time for a chat – no need to get anyone else upset if we are not ready to talk!
Pick a good time and place – sitting down, maybe sharing a snack, all electronics turned off…
Ask your child what they know already – it's good to start from their knowledge base. If they know nothing, take a moment and think if you want to proceed at that time…
Answer any questions and clear up any factual confusion as best you can. Try to stick to "directly observable data" (as my graduate school professor drilled into me!) and avoid judgment.
Assure them – if they are upset – that you and your family are safe and can hope to remain safe. Choose to embody love rather than fear.
Remind them that we are a nation of laws and that our political system has checks and balances to allow for peaceful transitions when there is turmoil.
Avoid inflammatory comments and blame – people have been acting on their own belief systems, and at the very least we can honor the integrity of those with whom we disagree.
Let them know that you are always available to talk.
Sometimes it's also good to remind our children – and ourselves – what it means to be good citizens in out homes, our communities, and our nation. I have often turned to Robert Fulghum's book, All I Really Need to Know I Learned in Kindergarten. Here are some of his suggestions for "the right was to behave":
Put things back where you found them.
Don't take things that aren't yours.
Say you're sorry when you hurt someone.
Wash your hands before you eat.
Take a nap every afternoon.
Live a balanced life: learn some and think some and draw and paint and sing and dance and play and work every day.
As always, I leave you with this choice: we can raise our children to be fearful of life or we can raise our children with the loving awareness that each of us can help to build a better world. 
                                                                               ###