An Important Component
of Our Community
The Parent Teacher Organization at West Chester Friends School encourages everyone in the school community to take part in family events and fundraisers, both on and off campus. These activities have two important purposes: to promote a closer relationship among WCFS families and between families and teachers, and to enhance the School's program through support of professional development for faculty and staff, campus improvements, assemblies and other enriching activities.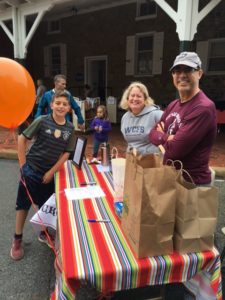 The PTO meets throughout the year with some meetings focused on faculty and other speakers, and others used to plan upcoming events. The Fall Fair, held annually in October, is the PTO's largest fun- and fund-raising event, with other family activities including movie nights, a celebration of Lunar New Year, "Dine and Donate" evenings and picnics on the Quaker Block lawn providing lots of yearlong fun.
The 2019-2020 PTO Leadership Team
Laura Chisholm, Fran Farrell, Jen Harris, Victoria Helmke, Kristin Schultz, Tina Thomstatter
Volunteers are an important component of West Chester Friends School's program. One hundred percent of parents volunteer in some capacity, from chairing events such as the Friends Meeting Friends auction, to helping with mailings from home, from coordinating service projects to planning class parties, from serving as room parents to delivering special coffees to faculty on conference day. It's all helpful and important as it enriches the day-to-day learning lives of our students and their dedicated teachers.