A Thoughtfully Curated Selection
The West Chester Friends School "Treetop" Library is the heart of the school, a lovely home to the vast, international collection available to students and faculty. Preschool through fifth grade students visit the library for age-appropriate learning about book classification, author studies, illustration, story time, and, of course, checking out books!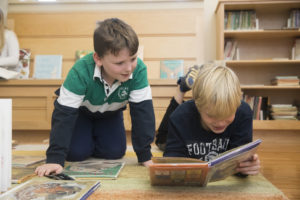 The librarian works closely with classroom and special area teachers to support learning through book recommendations towards an area of study, and to support student readers in their various interests and levels. The library is also the site of art history lessons that support study in studio art, literature, history and music across the curriculum. The annual Book Fair is a unique, much-anticipated event during which the WCFS community peruses and chooses books for all ages and interests from a thoughtfully curated selection.