Connecting Generations for
Learning and Fun
West Chester Friends School is fortunate to share the Quaker Block with our elder neighbors at the Hickman, the beloved and historic retirement community next door.  Understanding that intergenerational friendships bring lasting benefits to both children and seniors, WCFS provides many opportunities for students and Hickman residents to participate regularly together in a variety activities and programming.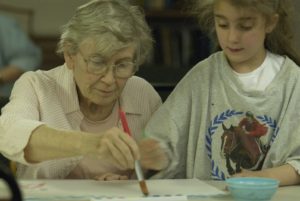 Many holidays are shared with elders, from the Halloween parade complete with spooky songs, to carols and a holiday concert in December, an Easter Egg Hunt and a special delivery of May Day flowers.  Pre-kindergarten students share songs and movement with elders each week, first and fourth graders bring intergenerational yoga, and second graders and elders are quilting together.  By the time they are in fifth grade, students have formed special relationships with Hickman friends, and visit them each Friday for conversation, games and reading time together.   
Hickman residents are also welcome to join us for Baby Hat Making on Mondays, at Meeting for Worship and Meeting for Singing, concerts, plays and many other special events here on campus.  Each year at commencement, we are delighted with the sweet send-off elders often give to fifth graders at their graduation.