Explore…Experience…Create…
at WCFS Summer Programs!
We Are Delighted to Offer 5 Two-Week Sessions of Enrichment and Fun!
 Little Friends, Awesome Adventurers and Amazing Explorers
 For Children in Rising Play School through Rising Sixth Grade
Weeks of June 14th – June 25th, June 28th – July 9th (closed July 5th),
July 12th –  July 23rd, July 26th – August 6th and August 9th – August 20th
   9 am to 3 pm
Before Care, Free of Charge: 8:30 am 
After Care, $15 first  hour, $10 second hour, 3 pm to 5 pm
$310 per child, per week – $525 for two weeks, or two children
 (weeks do not need to be consecutive)
These experiences are designed for children to enjoy together, in age-appropriate groups, with highly experienced teachers from WCFS and around the community.  Each day provides unique opportunities for enrichment and creativity, to encourage students to discover and develop new interests and emerging  talents. Children create…explore…and experience in the same supportive setting and nurturing community that West Chester Friends School provides all year long.
Little Friends (Rising Play School, Pre-K and Kindergarten Students)
For Little Friends, each week focuses on the exploration of different themes, through art, science, music, fitness, gardening, stories and games, and including yoga, water play days, Spanish  and other age-appropriate activities.  Ourdoors whenever weather permits, Little Friends have lunch at their picnic tables and a rest (or nap, if needed) in their classroom each afternoon.  There is some flexibility with schedules; call Karen at 610-696-22820 for more information.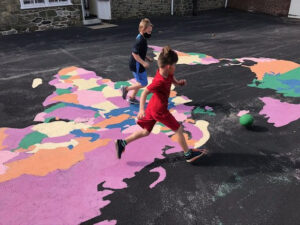 Awesome Adventurers (Rising First and Second Grade) and Amazing Explorers (Rising Third through Fifth Grade)
With the focus on outdoor fun and learning, these students enjoy a variety of activities often centered on a particular theme.  Each day, there are age-appropriate art and music activities,  sports and games of all kinds, music, fitness, gardening and more!  This year, WCFS offers three special-area camps, as well, and the opportunity for Summer Climb Time math and language arts activities for those families who choose them (see below).
THREE VERY SPECIAL CAMPS!
*During the June 14th-June 25th sessiom of camp, Teacher Bonnie will offer her highly anticipated Theater Camp for rising third through sixth graders!  Students will take their work from script to stage, engaging with writing, staging, costumes and set creation each day, toward a culminating presentation at weeks' end.  
*During the second session, June 28th through Juy 9th, we are delighted to have  former science teacher, Teacher Dottie–she's back!!–and current science teacher, Teacher Lesley, presenting Full STEAM Ahead: Summer Science Fun!  There will be two weeks of science, technology, engineering, art, and math (STEAM). Students will explore environmental science through creative, hands on projects, including sailing boats in the research pond, making s'mores using solar power, designing bottle rockets and more!  
*Teacher Amy and first through fifth grade students will enjoy two weeks of fitness and games fun during the thid session, July 12th through Juy 23rd.  The first week (July 12th) will focus on Olympic Activities, iwhile the second (July 19th) will include fitness, games and food fun! 
ARE YOU CONCERNED ABOUT SUMMER SLIDE?
Parents often worry that, over the summer, their students may lose some of their learning from the previous school year.  This summer, WCFS offers the option of Summer Climb Time during their regular camp day.  Two days a week, Teacher Karen Martini will offer a one-hour, small group time for  language arts fun and enrichment.  Teacher Samantha will offer an engaging one-hour, small group time for math.   This program is optional.  Families may select the Summer Climb Time for language arts, math, or both.  They are available to WCFS summer campers at no charge.  
QUESTIONS ABOUT SUMMER PROGRAMS?
WCFS Summer Programs 2021- 415 N.High Street – West Chester, PA 19380 – 610-696-2820
Download the Summer Programs 2021 Registration Form here